Shiba Inu has climbed up around 26% in the past two days, beating all the other top cryptos in the market, including Dogecoin and Bitcoin.
Shiba Inu Observes 26% Rally Over The Last Couple Of Days
While most of the crypto market has shown little movement during the past week or so, SHIB has been different these last two days.
Currently, Shiba Inu is trading around $0.0000154, up 26% in the last seven days. Here is a chart that shows the recent trend in the value of the memecoin:
Looks like the price of the crypto has jumped up recently | Source: SHIBUSD on TradingView
As you can see above, the DOGE-cousin coin was moving flat during the last few days, until yesterday, when the crypto finally started catching some sharp upwards momentum.
Shiba Inu hit as high as $0.0000178 yesterday, at which point it was up 39% since the start of the rally. However, since then, the coin's price has come down a bit. Nonetheless, SHIB holders are still enjoying gains of about 26% accumulated over the past couple of days.
The reason behind this slight decline could possibly be related to selling from whales. As per this chart from the analytics firm Santiment, SHIB whale transactions surged up when the memecoin's value rose: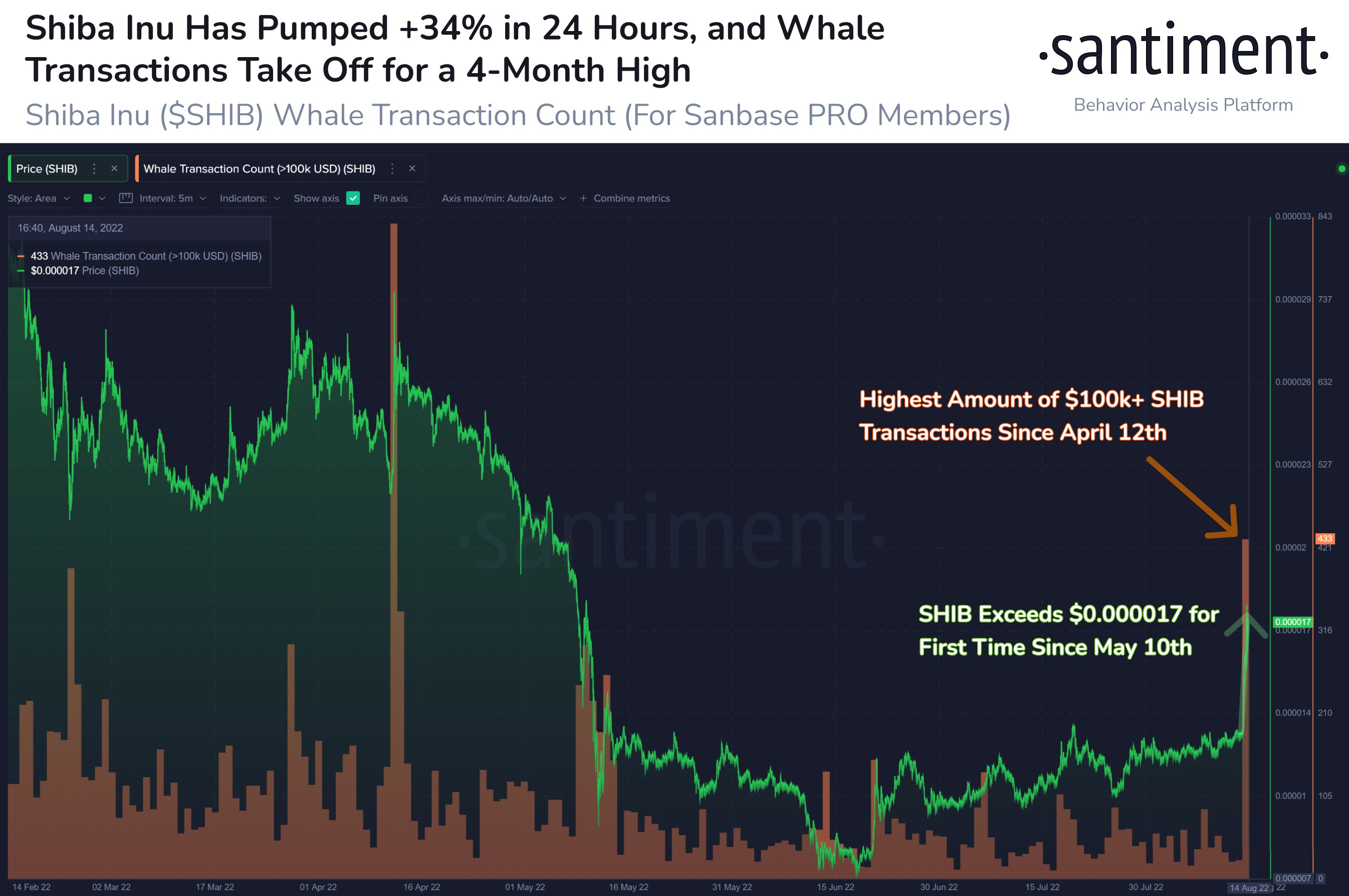 The whale transaction volume seems to have hit hit a 4-month high | Source: Santiment
From the graph, it's apparent that the amount of Shiba Inu transactions worth more than $100k has spiked up to the highest value since the April of this year.
Despite the drawdown because of this possible dumping from whales, SHIB still handily beats the other top cryptos in the market.
SHIB's top competitor, Dogecoin, has also observed positive gains this week as the original memecoin is up 6% for the period. The below chart shows the trend in DOGE's price.
DOGE rose up and then erased a lot of its gains in the last two days | Source: DOGEUSD on TradingView
Clearly, Dogecoin's profits are much less than Shiba Inu's for the same timespan. Bitcoin has performed even worse as the coin has been mostly consolidating sideways during the past week.
At the time of writing, BTC's price is floating around $24k. Over the last month, the crypto has gained % in value.
Below is a chart that shows how the price of the coin has changed during the past five days.
BTC has seen some short-term volatility, but the overall trend has been that of sideways movement in the last few days | Source: BTCUSD on TradingView
Featured image from Ferhat Deniz Fors on Unsplash.com, charts from TradingView.com, Santiment
Original Source: https://bitcoinist.com/shiba-inu-rallies-up-26-two-days-beats-doge-btc/
Author : Hououin Kyouma