Ethereum-based ERC tokens have consistently remained strong throughout the crypto winter. Projects created using the ERC standard benefit from high levels of security and decentralization as well as Ethererum's large user base. However, with there being hundreds of ERC projects on the market, finding one set to explode can be quite troublesome.
Throughout this article, we'll be taking a look at three ERC tokens primed to explode in 2022 and providing a guide detailing how to buy our top pick. Let's get started.
Top 3 ERC Tokens to Explode – Our Picks
Below, we've included a brief overview of each project. However, for investors that desire a bit more information, we've also provided a detailed review of each in the section that follows.
Lucky Block – The Number 1 NFT Competition Platform
Tamadoge – ERC Meme Coin with Confirmed CEX Listing
Enjin – Project Aiming to Tokenize In-Game Items
A Detailed Look at the Top ERC Tokens Set to Explode
Now that we've taken a brief look at 3 ERC tokens set to explode, it's time to dive deeper. Each project we'll be taking a look at boasts a plethora of utility, an excellent team, and strong tokenomics.
Lucky Block – The Number 1 NFT Competition Platform
Lucky Block (LBLOCK) is an NFT competitions platform that has been making waves recently due to a series of exchange listings. The platform uses blockchain technology to create a fair drawing system and to provide efficient rewards distribution.
Lucky Block gives users the opportunity to win big prizes (houses, luxury cars, crypto, etc)  by purchasing an NFT. Each competition is linked to a specific NFT, with the price being based on the potential rewards. This allows Lucky Block to offer larger prizes and more frequent competitions.
While each NFT acts as an entry ticket to a competition, that's not all. Every NFT holder is entitled to a share of the competition profit pool. This gives the NFTs utility even after the linked competition has ended and ensures that everyone's a winner.
In addition to the regular NFT competitions hosted by Lucky Block, a special drawing also takes place for holders of the Platinum Rollers Club (PRC) NFT collection. Each week, Lucky Block runs a Platinum Competition with the PRC  NFTs providing free entry to each. One upcoming competition for PRC holders will see the winner get their hands on a real Lamborghini.
Lucky Block has recently been listed on the Uniswap exchange. Being one of the largest decentralized exchanges on the planet, this will enable thousands of investors to trade LBLOCK, causing demand to pump. LBLOCK is tradable on the DEXTools which is fully integrated with Uniswap.
The LBLOCK token is used to power the Lucky Block ecosystem and has recently completed its switch to the ERC standard. This enabled LBLOCK to be listed on centralized exchanges like MEXC, significantly increasing demand for the token. In the days prior to the listing, LBLOCK increased by hundreds of percent and with more listings on the way, it's a great time to buy
Lucky Block has been showing massive strength in recent months. With demand for the LBLOCK token climbing rapidly and more CEX listings planned for the future, it's worth checking out Lucky Block today. More details about the project can be found on LuckyBlock.com.
Join the Lucky Block Discord to keep up to date with the project's latest developments (admins will never message first).
Tamadoge – ERC Meme Coin with Confirmed CEX Listing
Tamadoge (TAMA) is a new meme coin with a focus on utility. The project blends NFTs, play-to-earn gaming, and the Metaverse in order to create an engaging and highly rewarding experience for its users.
The vast majority of even the best meme coins offer little in the way of utility. However, Tamadoge is the exception. The team has made every effort to add utility to a meme coin. This allows Tamadoge to capitalize on the hype surrounding meme coins while providing its investors with intrinsic value.
One of the main draws to the project is Tamadoge pets. Each pet comes tokenized as an NFT, meaning it can be easily bought, sold, and traded by players. Furthermore, a pet can be leveled up by giving it toys, cosmetics, and food. As a pet levels up, the player is rewarded with Dogepoints. The more points a player has, the higher they will rank on the in-game leaderboard.
Tamadoge is a new cryptocurrency that features a beautifully designed Metaverse world called the Tamaverse. Within this world, players can interact with their pets as well as each other. While Tamadoge pets and the Tamaverse will first be usable on the web app, there are plans to release a mobile app with augmented reality functionality, allowing players to get closer to their Tamadoge pets.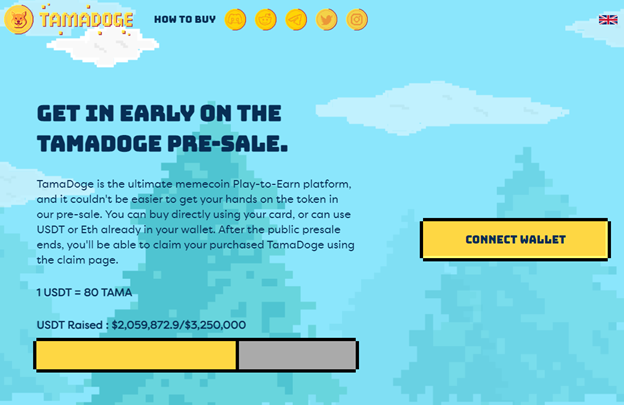 The Tamadoge beta presale, has experienced massive demand selling out well before the September 2nd deadline. However, the general presale has now begun with tokens being sold for $0.0125. As investors purchase TAMA tokens, the price will progressively increase to reward early supporters.
Unlike most presale projects, Tamadoge already has a confirmed listing on the LBank CEX. So once both presales have concluded, the token will likely shoot up in value. Join the Tamadoge Telegram group today to stay updated with the project's development as well as any upcoming exchange listings.
Enjin – Project Aiming to Tokenize In-Game Items
Enjin (ENJ) is a project aiming to use blockchain technology to improve the way in which in-game items are bought, sold, and traded.
Although some in-game items can sell for thousands of dollars, there is currently no easy way to cash these items for real money. As a result, players are left to use 3d party platforms that often go against a game's terms and can sometimes result in bans.
Enjin aims to change this by creating a system that will allow players to easily trade items from different games for ENJ which can then easily be converted into fiat. Furthermore, it will enable developers to earn a portion of the funds generated from sales on the secondary market, similar to the way NFTs work.
With gaming being a multi-billion dollar industry, developers are always looking for ways to expand their earning potential, Enjin could experience a massive influx of demand once large game developers begin to implement blockchain technology into their projects. With that in mind, ENJ could well be the next ERC token under $1 to explode.
Cryptoassets are a highly volatile unregulated investment product. No UK or EU investor protection
How to Buy Lucky Block
To help make the process of buying LBLOCK on the Uniswap DEXTools exchange simple, we've detailed the entire process below.
Step 1 – Register with an Exchange
In order to purchase LBLOCK, an investor must first purchase Ethereum. This can be acquired from a regulated exchange like eToro.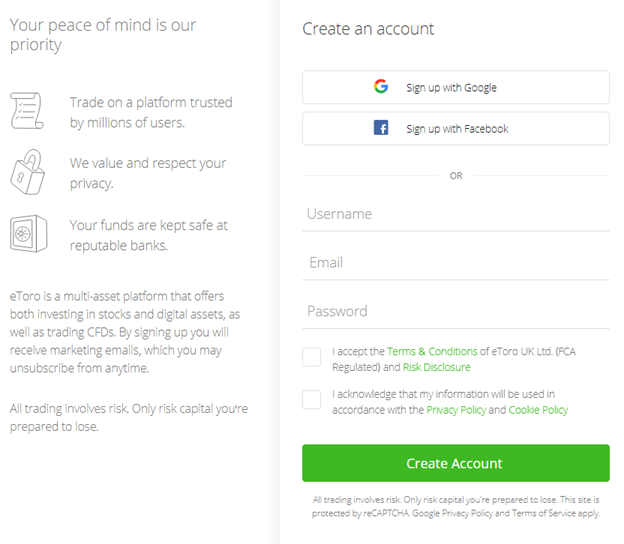 Cryptoassets are a highly volatile unregulated investment product. No UK or EU investor protection
Step 2 – Deposit & Buy ETH
After creating an account, press the 'Deposit Funds' button, choose how much to invest, and press 'Deposit'. Then, type 'ETH' into the search bar, press 'Trade', select the amount of Ether to purchase, and press 'Open Trade'.
Step 3 – Create MetaMask & Send ETH
Next, download either the MetaMask browser extension or mobile wallet and follow the on-screen instructions to create a crypto wallet. Then, double-check that the wallet is set to the Ethereum network, and using the eToro Money Wallet, withdraw the ETH from eToro to MetaMask.
Step 4 – Connect Wallet & Buy LBLOCK
Afterward, head to DEXTools, press 'Connect', select MetaMask, and confirm the connection. Then, either convert ETH to USDC and search for USDC/LBLOCK or search for the WETH/LBLOCK pair. Next, simply enter the desired number of LBLOCK tokens and press 'Trade'. The tokens will arrive in MetaMask promptly.

Original Source: https://bitcoinist.com/3-erc-tokens-under-1-set-to-explode-in-2022/
Author : Bitcoinist